A good orator must have exceptional public speaking skills to connect to his audience or listeners. If you desire to become a professional public speaker, then you must learn the balance of speech and behavior related to it. Your skills to communicate and connect with the public should be appealing yet informative. Your speech should be creative as well as pertinent to the audience. Make sure that you connect through your phrases, clauses, and slogans to deliver the actual message. According to a study, 77% of people face trouble with their public speaking skills. Proper knowledge and implementation of a few techniques related to such skills will enhance your confidence. Take a look at the dos and don'ts of public speaking to improvise and adapt exceptional quality skills to connect with your audience:
Do's For Public Speaking: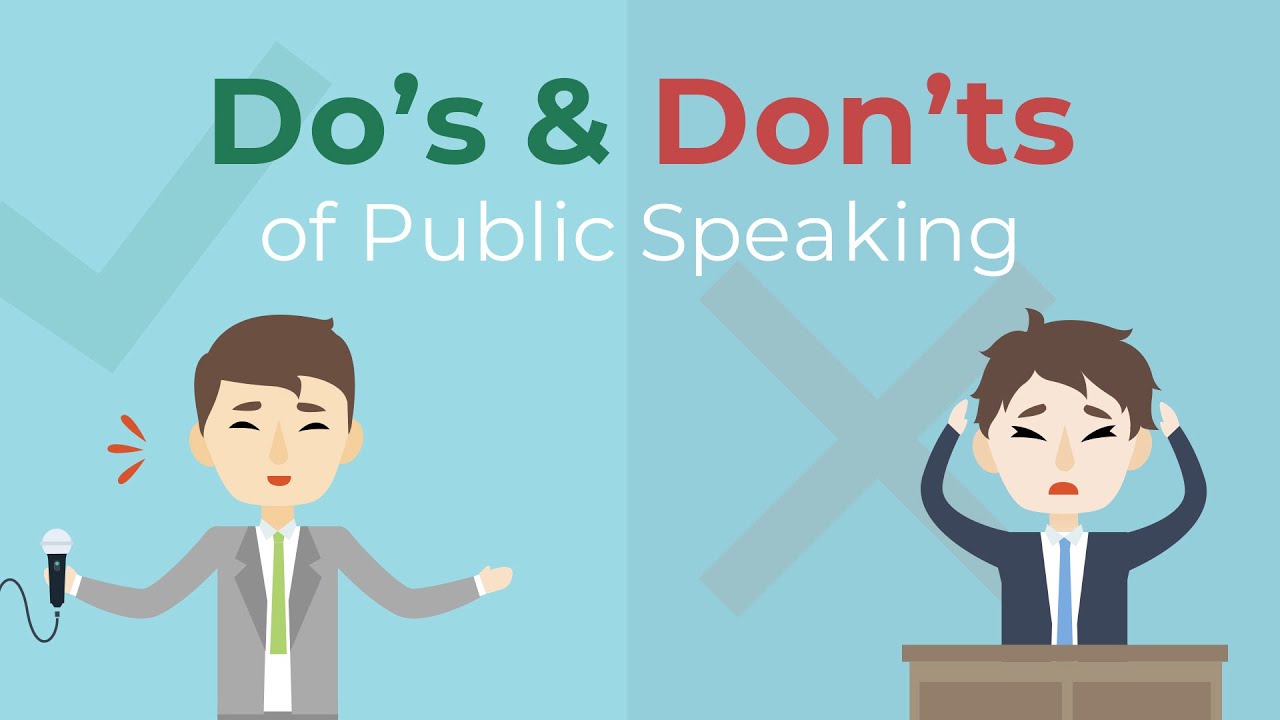 It is crucial to execute your speech with convenient pauses. This enables you to connect with the audience and make them understand your views and opinions about the concerned topic. Pause after every important message helps the audience to process them easily.
It is essential to show movements along with your speech on the stage. But be wise to execute necessary motions only. Bold and impressive motions with the intention to connect with the audience to deliver the message are always captivating.   
Research and Rehearse:

Being a public speaking figure, you must know about your audience. Research about your target audience. Look out for their ideology, beliefs, social influence, and so on. This will help you to rehearse your speech properly to connect with the audience.
Be Short And Precise:

Always try to deliver your speech in a short and precise way. Give your complete focus on the message you want to deliver. Make an attractive, captivating speech that can be delivered at the minimum time possible.
Don'ts for Public Speaking:
Don't Speak Irrelevant Things:
Try not to speak details irrelevant to your message and speech that you actually want to deliver. This will divert the audience and take away their interest.
Don't Be Too Spontaneous:

You must avoid spontaneous delivery of the speech. This creates problems with the audience understanding and process all the messages or details in a single flow.
Don't Focus Much On Visual Aids:

Keep minimum use of interpretation from graphs, infographics, and charts on your speech. The average audience may not understand your point of view and you will lose connection with them.
Avoid Fidgeting And Pacing:

Being nervous and fidgeting around the stage shows bad signs of being a professional public speaker. This distracts the audience and they tend to lose interest in the speech. So it's best not to fiddle around the stage due to lack of practice.

So if you follow these tips with their correct implementation, then there's no way to stop you from being an excellent public speaking figure. Your dedication and desire to become a good orator on all platforms – virtual and real-life begins now.