Isn't it true that we all desire our webpage or website to be top in a search engine's results page? All we have to do is improve our website to make it appear deserving of a high position. However, Search Engine Optimization is a slow process, and we do not want to wait. To leap into the top results of a SERP, a more straightforward option is to utilize "Black Hat SEO Techniques." In SEO, one such approach is cloaking. In this article, we will discuss What is Cloaking in SEO and its different types.
What is Cloaking in SEO?
Cloaking occurs when the page shown to users and search engine crawlers differs from what was requested by the user, typically displaying different content or changing experiences for either type of visitor. Cloaking in JavaScript happens when code on the website changes which HTML document gets loaded based on whether they are accessed through an Internet browser or a search engine crawler.
What Are The Various Forms Of Cloaking, And How Should You Go About Doing It?
User-Agent Cloaking
User-Agent Cloaking is a form of cloaking that targets specific user agents. User-agent cloakers are often found on websites with affiliate programs where the site owner will get paid based on which company commissions them, for instance, from Amazon vs. Walmart. 
This is the most common cloaking technique and can be implemented by adding a few lines of code to your website. The script will automatically redirect visitors from one URL to another, thereby hiding what they are looking at from search engine crawlers.
The JavaScript code is inserted at the bottom of a web page to hide affiliate links in this type of cloaking. The JavaScript can be removed, but it will still load and run after loading when someone scrolls down so that users are unaware it was ever there in the first place.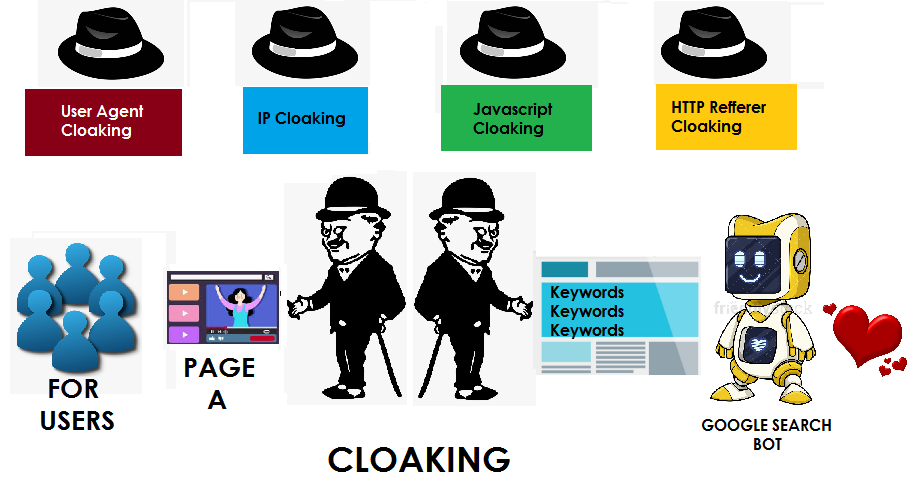 This type of cloaking is used to avoid search engine crawlers. This includes malware such as bots and spiders that crawl the web for content, making this a common way for hackers to get their sites indexed. These programs will often send information back about where they are coming from (i.e., Googlebot) so that search engine crawlers will not index the pages they visit.
HTTP Accept-language header cloaking
Content publishers use this cloaking to show different versions of the same website to display one page's text in a specific language. For example, suppose you are viewing an English version of the site, and your browser's accept-language request header reports French as your preferred language. In that case, this could trigger another copy of the site to be loaded on your browser.
What Are The Standard Ways To Implement Cloaking In SEO?
Invisible or Hidden text:

This may be accomplished by using text with the same color as the backdrop and therefore invisible to the naked eye.

Flash-based Websites:

According to SEO standards, Flash is not encouraged. However, some websites are unable to avoid it. Rather than recreating the entire website in plain HTML, they develop content-rich websites and offer search engine crawlers with them and visitors with flash pages.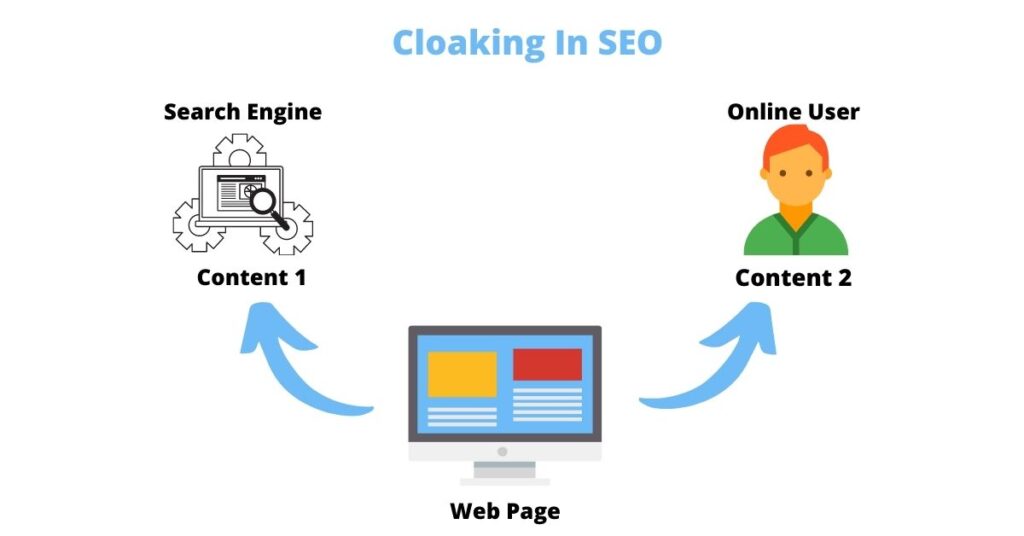 HTML Rich Websites:

According to SEO standards, Flash is not encouraged. However, some websites are unable to avoid it. Rather than recreating the entire website in plain HTML, they develop content-rich websites and offer search engine crawlers with them and visitors with flash pages.

Java Scripts are being phased out:

A non-JavaScript-enabled user can see material that matches the textual information within a Flash or other multimedia element using JavaScript.
Should cloaking be done in SEO?
Cloaking is considered a black hat practice in the Search Engine Optimization (SEO) business, as it breaches Google's Webmaster Standards. If you ask us to use cloaking to deceive crawlers and rank higher, we will say no since search engines dislike being deceived. Furthermore, your website gets scanned using different IP addresses many times, and their methodology is complicated and stringent.
We hope that you have a clear idea of What is Cloaking in SEO and the most common ways to implement them.